Elevating the Guest Experience: Onity to Showcase Mobile Access Solutions, Integrations Capabilities and New Serene Luxury Lock at HITEC
Ore, SALEM -
Solutions designed for a more seamless and contactless guest experience will be on display in booth #2601
Onity, a global leader in electronic access solutions, will showcase its mobile access solutions, integrations capabilities, and new Serene™ luxury lock, at the Hospitality Industry Technology Exposition and Conference (HITEC®), the world's largest and oldest hospitality technology event from September 27-30 in Dallas, Texas. Onity is part of Carrier Global Corporation (NYSE: CARR), the leading global provider of healthy, safe, sustainable and intelligent building and cold chain solutions.
As the need for contactless mobile key adoption is rapidly accelerating, Onity's DirectKey™ mobile access technology serves as a solution for both large hotel brands and smaller independent hotels alike. With DirectKey technology and a smartphone app, hotel guests can securely download their assigned key to unlock their room and other guest access-controlled areas of the property. Hotels can provide mobile access through their loyalty app or Onity's DirectKey mobile app, which works in conjunction with the hotel's property management system and Onity's OnPortal™ access management software.
DirectKey technology makes it quick and easy for guests to use their mobile key and provide a seamless journey – from parking to elevators, to the guest's room. Onity's mobile access locks are Bluetooth-enabled to stay in a ready state, so guests can unlock doors while on the move, without having to stop their stride or touch the phone to the lock.
"Today's hotel guest expects a seamless journey with limited touchpoints during their stay. Through our proprietary DirectKey technology, we inspire confidence, providing hotels with a solution that is easy to implement, for an elevated guest experience that is convenient and secure," said Fayyad Sbaihat, President, Onity.
As a pioneering mobile access technology for hotels, Onity's DirectKey system is part of Carrier's Healthy Buildings Program, an expanded suite of advanced solutions to help deliver healthier, safer, more efficient and productive indoor environments across key segments including hospitality, commercial offices, education, healthcare and retail. The DirectKey mobile access solution has been deployed across 6,000 properties globally, and unlocked doors more than 100 million times, in the past five years alone.
Looking ahead, hotel brands are extending mobile key into a fully connected-guest experience where contactless* goes beyond just check-in and access. Onity's approach to connected-room uses DirectKey and Bluetooth-enabled locks to empower guests via their smartphone and it is also ready for integration to control a host of in-room smart applications. This can create a highly personalized experience.
Imagine a guest entering their room using a mobile key, which then triggers a custom welcome message to display on the TV, lamps turn on automatically, drapes are drawn at night and the thermostat adjusts to the preferred temperature based on the guest profile. It's important to note that the ability for hotels to deliver a custom environment depends entirely on the willingness of guests, often loyalty members, to share their personal preferences.
Onity's Serene luxury lock will be on display in the HITEC booth. This small-form-factor lock combines an elegant design with Onity's innovative DirectKey mobile access technology. The advanced look features cutting-edge DirectKey technology with minimal on-the-door hardware. "Hotel operators will appreciate increased operational efficiencies with BLE programming, and they can simplify today's connected-room architecture by combining connectivity, door locks and smart devices into a new, mobile-centric approach for smart hotel rooms," said Sbaihat. Booth visitors will have the opportunity to see Onity's DirectKey technology real-time and learn more about Onity's connected room solution.
"Our new Serene lock is designed with the luxury and connected hotel in mind. With this lock, we are focused on delivering security, efficiency, flexibility and guest satisfaction, and are thrilled to share it with the attendees in person this year at HITEC," said Sbaihat. "We are confident that hoteliers will appreciate both the design and functionality of this sleek lock, that can be tailored to fit the look of any property with a range of lever styles and finishes."
With minimal on-the-door hardware, the advanced lock features a small glowing halo of light that symbolizes both timeless design and cutting-edge mobile access technology to allow guests to unlock their room with ease as they approach the door. Hotel operators also appreciate that the Serene lock will have online communication for increased operational efficiencies and streamlining.
Learn more about Onity's DirectKey technology, integrations solutions and the Serene luxury lock September 28-30 at HITEC booth #2601 or visit onity.com.
About Onity
Onity supports the hospitality, commercial, education, and military segments with a full spectrum of electronic locking, access control and mobile key solutions. Since 1986, Onity has been a global leader in electronic access solutions, serving customers in more than 125 countries around the globe. Onity is a part of Carrier Global Corporation, the leading global provider of healthy, safe, sustainable and intelligent building and cold chain solutions. For more information, visit onity.com.
*Serene lock provides contactless unlocking with mobile access.
For more information, contact:
Maria Olivier
Onity
A Carrier Company
Tel: 503-949-1375
[email protected]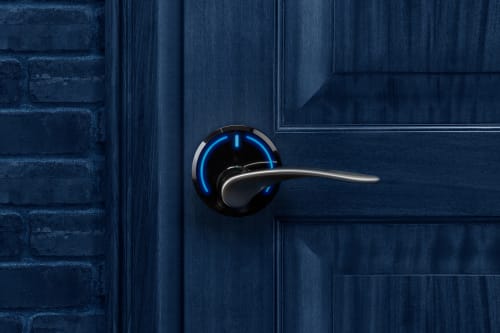 Onity's Serene™ luxury lock features an all-in-one compact design that minimizes on-the-door hardware.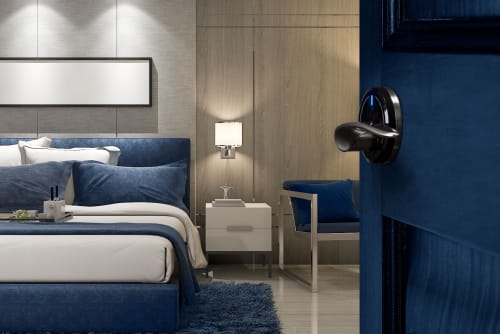 Onity's Serene luxury lock works with DirectKey™ mobile access technology, so guests can securely download their assigned key and enjoy a seamless journey to their room.